Hello friends,
Recently I've been having somewhat of a schedule when it comes to taking a poop. Always after lunch, eating a big meal, I seem to have to use the bathroom around the same time, almost every, single, day. As a working women, I don't plan to hold in my defecation's to please other people's noses. I refuse [my grandfather told me that I can die from that shit].
It all started in High School; senior year. I had joined the tennis team and my teammates were a bunch of odd group of girls . We would all share stories about situations that had happened to us while using the bathroom (like being on the toilet for so long, your legs falling asleep). They were delightful conversations, so I was comfortable around them whenever I had those days I needed to release myself. I guess that's where I get being comfortable to go in public bathrooms, it then continued to follow me through college (where I needed it the most). Community bathrooms was all we had, no privacy what so ever, and y'all know, I was not holding it in for anyone.
I was so comfortable with being able to go anywhere that my belly was a happy camper, my only issue was when it came for someone to come inside the bathroom, I wouldn't make a sound. I know they could see my feet, that was fact but what did it matter if they saw my face? I guess it was always that embarrassing moment when you farted in class and nobody wanted to sit next to you. But as an adult? We all know the functions of our body and the type of stuff that happens (I mean I wrote a post about periods). Why would it be different when it came to taking poops? Then I realized, it's not the act that people are embarrassed about, it's the smell afterwards. I took to the Internet (my favorite place) and accidentally came across a spray called Poo-Pourri.
This beautiful product helps hide the scent, how you ask? It's made from non-harmful ingredients that are safe for the toilet bowl and the environment. When I first saw this, I didn't believe it because it was just too good to be true. The reviews about the product were really good so I decided to buy it. When it arrived in the mail, I couldn't wait to use the bathroom and use it. When it was finally time, I was at work on a chilly Wednesday afternoon at around lunch time. I had just finished my work and thought it was be a perfect time to excuse myself to go to the bathroom. When I used it, I sprayed about… three times into the toilet bowl and began. It was almost instantly that the smell went away.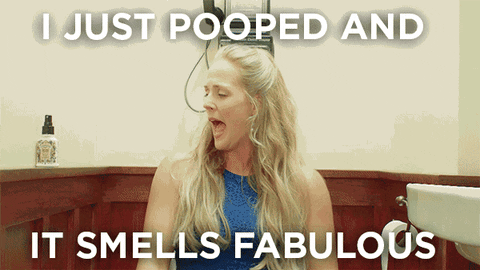 But the true test was if it smelled good to other and it surely did. So next time you, feel like you need to use the bathroom just grab this bad boy, relax, and enjoy your time in the bathroom. Let me know in the comments below what you think about this product.
P.S. the toilet bowl water stays with the scent as well, after about four flushes, the smell goes away. Here are some funny commercials from the brand that I'd like share with you. And no, this is definitely not a sponsored post.  https://www.youtube.com/user/poo
Love & Sweetness,